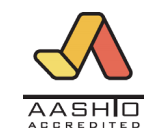 Triax Engineering is your one-stop shop for all your construction testing needs. We are proud to offer a comprehensive suite of services in our in-house lab, which has been carefully designed and equipped to deliver outstanding results.
Our experts are highly-trained and experienced in all facets of construction testing, and we guarantee fast, efficient, and reliable testing services to meet your project requirements. Our Denver Metro lab is accredited by AASHTO for a variety of testing methods over a wide range of materials.
So if you're looking for a reliable, comprehensive, and responsive construction testing lab, look no further than Triax Engineering. Contact us today to learn more about how we can help you with your materials testing needs.
We Can Perform The Following Tests
Classification and Index Properties
Hydraulic Conductivity Tests
Consolidation and Swell Tests
Unconfined Compression Tests
Direct Shear and Triaxial Strength Tests
Moisture / Density Relationship
Soil pH
Water Soluble Sulfates and Chlorides
Stabilized Subgrade / Base testing
Theoretical Max Specific Gravity / Rice
HMA Superpave Gyratory Compactor
Concrete Compressive And Flexural Strength Testing
Maturity Meter Calibration and Reading
Grout / Mortar / CMU Compressive Strength Testing
Flowfill (CLSM) and Self Consolidating Concrete Testing
Spray Applied Fireproofing
and more… Contact us to see if we can assist with your testing needs